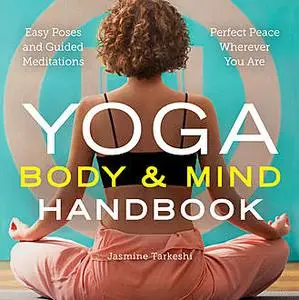 «Yoga Body and Mind Handbook» by Jasmine Tarkeshi
English | EPUB | 8.4 MB
• Complete yoga routines that include breathing, posture, and meditation that can be done throughout the day. In beginner books, meditation is often discussed but not integrated into daily practice. Our book will provide yoga routines of various lengths (15 minutes to an hour) that can be done at home or on the road, throughout your day.
• Easy and accommodating yoga postures. No contortion needed, these poses will be easy for all beginners and will suggest any modifications necessary.
• Guided meditations. As meditating on your own can be difficult at first, this book will provide guided meditations around unique themes like healing and empowerment.
• Detailed step-by-step instructions. In beginner books, not much is defined for the reader–how long to do a pose, how long to focus on posture, when to integrate breathing exercises, or how often to meditate. This book will take the thinking out of it and prescribe the routines, leaving the reader less overwhelmed.
• Detailed illustrations. As with our posture book, illustration will be strategically used to make clear yoga poses and meditation positions.
• A selection of healthy recipes. To get the full benefit of a yoga lifestyle, food should be as light and healthy as possible. This book provides 25 recipes to get you started.
Target Audience: Yoga novices
Marketing Plans:
• Author is owner of the Laughing Lotus studios based in NYC (Brooklyn & Manhattan) and SF which delivers not only a high level of author authority with consumers but also great social media following for book promotion!
• Author is well connected within the yoga industry/media and we expect a lot of coverage online from media and influencers in this sphere.