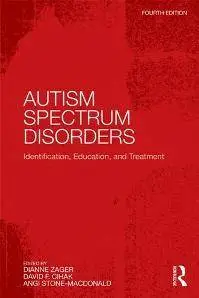 Autism Spectrum Disorders :
Identification, Education, and Treatment, Fourth Editon
by Dianne Zager and David F. Cihak
English | 2017 | ISBN: 1138015709 | 475 Pages | PDF | 36 MB
The fourth edition of Autism Spectrum Disorders: Identification, Education, and Treatment continues the mission of its predecessors: to present a comprehensive, readable, and up-to-date overview of the field of autism; one that links research, theory, and practice in ways that are accessible to students, practitioners, and parents. During the last decade, autism spectrum disorders (ASD) have emerged as the fastest growing developmental disability, and, in response to the dramatic increase in diagnoses, diagnostic criteria in the newly published DSM-5 are significantly different than they were in the DSM IV-R.
The structure, content, and format of Autism Spectrum Disorders, 4th Edition have been revised to accommodate changes in the field and to illuminate the current state of the art in the study of autism. New information on early identification, transition education from adolescence through to adulthood, neurobiological research, and technology-based solutions is included.