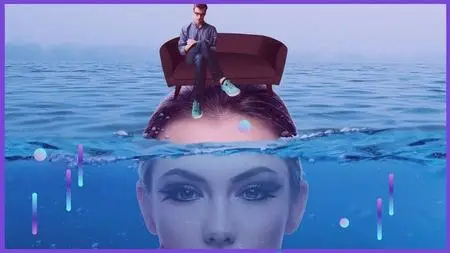 Learn How To Think. The skill you've never been taught.
Video: .mp4 (1280x720, 30 fps(r)) | Audio: aac, 48000 Hz, 2ch | Size: 1.14 GB
Genre: eLearning Video | Duration: 24 lectures (1 hour, 15 mins) | Language: English

Mind Mastery Course based on CBT, Neuroplasticity, Ancient Mystic Teachings & Metaphysics
What you'll learn
How to master awarness of your thinking?
How to break free from limiting beliefs that hold you back?
How to build self-confidence and increase resilience?
How to overcome setbacks and disappointments easily?
How to align your conscious mind with your subconscious desires?
How to self-regulate your emotions?
How to take ownership of your overall health?
How to release money blocks and negative beliefs around creating wealth?
Requirements
There are no requirements for this course, everything is explained in full.
Willingness to help yourself and others by using the tools, techniques and practices provided in this Course.
Description
Through my study and endless research into the area of the human mind, one surprising thing has caught my attention- how to think!
The problems afflicting society today are firmly rooted in the classical approach to education which focuses on memorization and imitation rather than genuine understanding of thinking pattern, which directly affects your own life. Our modern sociaty emphasize what we should think, rather than teaching how to think. Our life is shaped by a lifetime of social conditioning and cultural indoctrination.
In this Course you'll learn how to activate your dormant intelligence and follow the guidance of awakened consciousness. This Course isn't like any training program you've ever done before. There's no fluff or filler. It immediately gets down to brass tacks, showing you exactly what to do, how to do it, and why.
Getting to know yourself and your own mind and coaching it to work for you is the greatest advantage you can offer yourself.
Here's just a fraction of what you're getting…
Transcending the limitations of your mind- you are more powerful than you think .Discover 'why'?
How to break free from limiting beliefs that hold you back. You will be amazed by just how much conditioning has been self-sabotaging your self worth and your chances of success.
The truth about how people achieve incredible success, and why its got nothing to do with hard work! Learn the true causes of success and wealth.
Develop Self-Confidence and Increase resilience. Your subconscious mind is holding a key for suppressed trauma, blocked emotions and pain. By releasing those patterns, you can regain self worth and totally change your life.
How to overcome setbacks and disappointments easily? Your thoughts and emotions are driving force in everything you do. Learn how to master your thoughts and emotions.
Money doesn't grow on trees-BUT it does grow in your mind. Learn how to navigate the energy of money in the direction you want.
Discover the most effective mind programming techniques - get whatever you want more easily.
Self Healing at the cellular level You are the user and controller of your genes. Learn 'how' to heal your body and take ownership of your overall health.
This Course is not collection of teachings only. It provides you with the training tools you need to move from your current state towards where you want to be in life. You'll learn how to transcend the conscious mind (intellectual mind), which is mostly operating on doubts, fear, scepticism, worries and suffering. It shows you exactly how it can be done in the most concise way you have ever encountered.
This is a very innovative course , it is a blend of Ancient teachings and Cutting Edge Science. The Science is finally catching up with what Ancient mystics have known for thousands of years.
Why Learn about Your Mind?
Most people understand the importance of physical fitness but rarely emphasize the importance of mental fitness, and yet mental fitness is far more beneficial because it's the key to success in all areas of life. The human mind is the most complicated, elegant, and amazing system in the world. Yet, we are never taught how to use it to its fullest capacity.
What's the core value of this Course?
This Course is a Science-Backed Life-Changing Program to Overcome Self-Imposed Limitations.
What Students Are Saying?
Eric Butler - This is the most comprehensive Course I've come accross. It gives 360 degree overview of our forgotten power. WOW!. I particulary like the Scientific evidence which supports the theory related to the Power of the Mind.
Stephanie Durban - I love this Course. It has helped me to make some life changing decisions much easier than I would normally do.
Julie Daly- This Course has taught me how to take control of my mind and my emotions.
Who this course is for:
Anybody interested to use the power of the mind and coaching it to work for you.
Business leaders, employees who are facing overwhelm, stress, self-doubt, uncertainty and other unhelpful habits of mind.
Teachers and Educators who are commited in making a positive difference in student's lives.