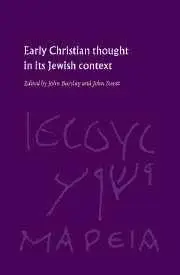 Early Christian Thought in its Jewish Context (John Barclay, John Sweet, eds.)
New York: Cambridge University Press | 1996 | ISBN-10: 0521462851 | DJVU | 2.5 MB
A contribution to the Classical Languages Team Project
http://uztranslations.net.ru/classics.html
The theme is the continuity and discontinuity between early Christianity and its Jewish parent. The formation of Christian thought is currently the focus of much debate. These essays cover the historical and social context of Palestine and the Diaspora; the New Testament canon and noncanonical writings; and central themes. The concise treatments, with bibliographies, of intensely topical questions by international experts will be of interest and value to teachers and undergraduate students of the New Testament and Christian origins.
Reviews
"It provides an excellent overview of what New Testament scholars are saying about this crucial topic. It could ably serve as a primer in Early Christian Thought." Phillip B. Munoa, Christian Scholar's Review
"The variety of themes and the well-known scholars give us a useful overview of the current discussion on the relationship of early Christianity to Jewish tradition." Jens Schröter, Religious Studies Review
"This collection will benefit students of the New Testament in the U.S. by drawing attention to the work of an important, but all too frequently neglected scholar." O. Larry Yarbrough, Jrnl of Church & State
" Early Christianity in Its Jewish Context … does consolidate in a single, convenient source a particular range of perspectives on the state of the many different dimensions of question of the Judaic context of early Christianity with these responsible, sound contributions from current scholarship. That initself is a noteworthy contributiuon; Professor Hooker is amply honored by these essays, and the editors are to be congratulated for having orchestrated such a strong Festschrift." A.K.M. Adam, Anglican Theological Review
"…a well-planned collection reflecting an attempt to cover the major topics of early Christianity in its relation to Judaism. This collection…is highly valuable." Martin Olsthoorn, The Catholic Biblical Quarterly
Contributors
C. F. D. Moule, Andrew Chester, John Barclay, N. T. Wright, Ivor Jones, David R. Catchpole, C. K. Barrett, D. Moody Smith, E. P. Sanders, James D. G. Dunn, Marie E. Isaacs, John Sweet, Graham Stanton, Peder Borgen, William Horbury, Marinus de Jonge, Christopher Rowland, Kenneth Grayston, Markus Bockmuehl
1. Introductory essay C. F. D. Moule
Part I. The Social Context of Early Christianity: 2. The Jews of Judaea and Galilee Andrew Chester
3. The Jews of the Diaspora John Barclay
Part II. Some Early Christian Sources: 4. Jesus N. T. Wright
5. Matthew Ivor Jones
6. Mark David R. Catchpole
7. Luke-Acts C. K. Barrett
8. John D. Moody Smith
9. Paul E. P. Sanders
10. Deutero-Pauline Letters James D. G. Dunn
11. Hebrews Marie E. Isaacs
12. Revelation John Sweet
13. Other early Christian writings: Didache, Ignatius, Barnabas Graham Stanton
Part III. Some Early Christian Themes: 14. In accordance with the Scriptures Peder Borgen
15. Land, sanctuary and worship William Horbury
16. Monotheism and christology Marinus de Jonge
17. Apocalyptic, God and the world Christopher Rowland
18. Atonement and martyrdom Kenneth Grayston
19. Halakhah and ethics in the Jesus tradition Markus Bockmuehl.
This archive also includes two reviews on the book by E. Ferguson (Journal of Early Christian Studies, 1997) and A. K. M. Adam (Anglican Theological Review, Summer 1998).
Download:
http://www.ftp2share.com/file/17011/Barclay1996.html
Check the Classical Languages Team Project page for more downloads in Latin, Greek, Hebrew, Aramaic, Syriac, Ethiopic as well as Sanskrit, at http://www.uztranslations.net.ru/classics.html .

And please - if you like these posts, do contribute to the Project.