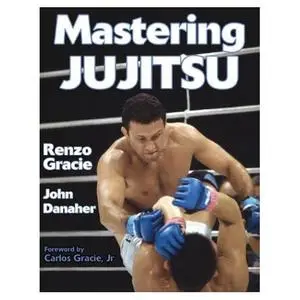 Mastering Jujitsu (Mastering Martial Arts Series)
by Renzo Gracie, John Danaher
Human Kinetics Publishers | ISBN 0736044043 | year 2003 | 233 pages | PDF | 24MB
In recent years, the grappling arts have proven to be the most effective form of combat in mixed martial arts (MMA) and no-holds-barred (NHB) competitions. Above all others, the Gracie brand of Brazilian jujitsu has become recognized as the preeminent fighting style in unarmed combat. Now Renzo Gracie—one of the most successful athletes in the world-renowned Gracie family—reveals the inner workings of the art.
With nearly 30 years of training, Gracie competes at the highest levels and is a champion
of numerous grappling, MMA, and NHB events. Also an instructor of many students who have gone on to become champions, Gracie now provides that instruction to help you develop the same techniques and strategies that the Gracie clan has used to dominate their opponents.
In Mastering Jujitsu, Gracie covers it all in depth—from the art's origins and techniques to practical applications that even the most experienced black belts will benefit from.
Starting with isolated skill development techniques, you will progress to a full set of tactics and fight plans and become familiar with the concept of combat phases. You will learn how to attack from any phase as well as how to react to your opponent. Whether you're in a bottom position or attacking from the top, Gracie reveals the key strategies designed to give you the upper hand in close combat fighting.
DOWNLOAD