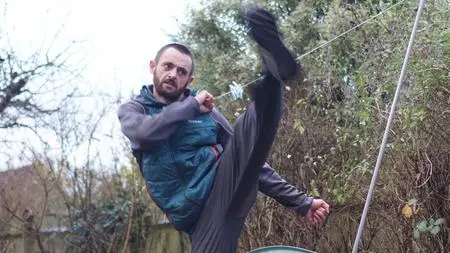 Combination Striking: Techniques and Tips for Martial Arts
.MP4, AVC, 1280x720, 30 fps | English, AAC, 2 Ch | 1h 30m | 1.90 GB
Instructor: Joe Harman
Learn effective combination techniques and how to blend them together seamlessly, whatever your style of practice.
What you'll learn
Learn effective striking combinations and how to execute them properly and fluidly
Learn a variety of fundamental martial arts techniques
How to prepare the body for intense activity and energy
Learn how to stay switched on bringing the body and mind to peak performance
Requirements
No specific skills, equipment, or experience needed. This course is designed for newcomers and experienced martial artists alike. You can train for optimal health and functioning, wellbeing, fitness, or self defence according to your level of experience and currently capability.
All you need is a mind and body to enhance and train, at a pace to suit you. The techniques are tried and tested in modern day as well as adapted from ancient traditional practices, which can be applied to any style of martial arts.
Description
This course ties together a selection of fundamental techniques to significantly enhance your martial arts skills. Learn how to execute powerful striking combinations with concentrated power. The course is rooted in kickboxing but has universal appeal. The techniques covered here are applicable to all styles of martial arts. The course follows on from Martial Arts Striking Techniques and dovetails nicely with Power Striking from the same series. Here we learn how to take your practice to the next level by blending together various styles seamlessly.
All martial arts techniques are compatible with one another, it is a question of allowing the body and mind to synchronise properly to allow it to just happen. It is not a theoretical practice, but an active and engaging one where limitations are decimated by overcoming pitfalls over time. By remaining fully involved and creatively aware, you open up limitless possibilities for your ongoing progress. You then organise your mind and body awareness in such a way that you create an atmosphere of optimal functioning. Whether you are big, small, athletic, fit, or otherwise, it is possible to enhance your functioning according to your present capabilities, and then blossom from there.
To stay fit, it is recommended that you practice regularly. However due to injuries and packed schedules, many people find regular sustained practice difficult. Furthermore, not everybody wants to become a fully fledged martial artist. But it can be hugely beneficial to learn Martial arts in order to increase your health, fitness, and power. Therefore, it is possible to practice in an mindful way, with an emphasis on feeling the internal forces working through you. This is the meaning behind internal martial arts. The external side of martial arts works at the level of muscular development. Choose the emphasis that suits your own needs right now. And do it at your own pace, wherever you like.
To be an effective Martial Artist, one must gain mastery over their four limbs. The fifth limb is the head. In the same way we can learn to practice surrounded by the 5 elements, out in nature. So it doesn't matter whether you are outside or in purpose built gym, we work with what we have. This includes practicing footwork, punches, kicks, knees, and elbows, as well as offensive and defensive skills. In doing so, you will learn more about how to move more generally in everyday life. We learn by doing, and any amount of light practice can be beneficial. The more we align ourselves to an activity in a meaningful way, the better the atmosphere for progression and the more enthusiasm we have. Once you have established this atmosphere of body and mind, there is little more to do other than reap the benefits and continue on the path of self development.
Long term progress is ensured by sustained effort over time, rather than just one off all-or-nothing practice sessions. For example, just by going through these exercises for 10-20 minutes per day can positively boost your system. Just engaging in the warm up can give you a significant mental and physical boost! By practicing martial arts movements you will build strength and power, learn effective self defence, and invigorate your body and mind. This is the goal of martial arts, to bring the body and mind to peak physical condition, whatever your level of capability. By practicing the fundamentals regularly, you will ensure that your physical tools and mind remain razor sharp. This attitude of perseverance is the most valuable of training partners, so keep it as a constant companion.
No previous experience of martial arts required. It is helpful to have the training equipment, but the main thing is a willingness to learn and use what you have. You can even do it outdoors! Just remember to do a basic warm up and wear suitable loose clothing where possible. Ideally, practice should be done on a flat dry surface. However, suppose you live at the South Pole. Then this is the environment you have to train in, taking the necessary safety precautions to avoid injury and just using what you have. In everyday life for example, you often find yourself walking across uneven terrain. This can be turned into an exercise which requires your concentration in order to maintain equilibrium. You might be stuck in a flat unable to disturb your neighbours. Use this as a way of creating the least disturbance possible as an exercise in self control. Imagine that you are having to perform the techniques in a confined space, which has been the reality for many martial artists. Constraints can be used as a way of developing skills in creativity and problem solving for instance. Today, due to declining physical activity, it is more important than ever to regularly sharpen the body and mind by using them at their full capability according to your level of development and fitness.
Who this course is for:
Seasoned martial artists as well as those looking to enhance their existing capabilities. The principles we cover here are of universal appeal. For example, we look at the posture of the Martial arts stance in terms of power development, as well as balance, alignment, and energy circulation. In this way we learn about all aspects of optimal mind and body functioning.
Aspiring Martial Artists of all levels who want to reach peak effort and performance, or simply to enhance their repertoire of skills.
Learners who wish to benefit from a like minded community and get involved in seeking knowledge.
People who wish to add a dimension of self transformation and discipline to their practice of physical exercise and Martial Arts.