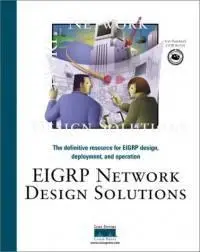 EIGRP Network Design Solutions: The Definitive Resource for EIGRP Design, Deployment, and Operation
9781578701650 (1578701651) | Cisco Press, 2000 | 2MB. RS, FF
EIGRP Network Design Solutions provides readers with in-depth knowledge of EIGRP, the Cisco routing protocol that runs many large enterprise and service provider networks. It covers the theory of EIGRP, network design issues, configuration of EIGRP on Cisco IOS routers, and detailed troubleshooting information. Case studies and configuration examples help readers put the concepts into practice. Design and usage rules for various EIGRP features allow network engineers to design and implement EIGRP networks resulting in efficient, optimal, and trouble-free network operation. The book addresses issues with various types of networks, such as: hierarchical and meshed enterprise networks, dial-up networks, and service provider networks. Ideal for network technicians, network engineers, and network design consultants who are designing, implementing or troubleshooting enterprise, dial-up, or service provider networks with EIGRP who need the practical knowledge presented in this book.
Network architects who wanted to build multiprotocol networks in the early 1990s were faced with a tough dilemma. Most of the protocols running in enterprise network, namely IPX from Novell and AppleTalk from Apple, had no scalable routing protocols that enabled the network architect to build reliable large networks. The situation was only slightly better in the IP world—the older and proven routing protocols such as Routing Information Protocol (RIP) or Interior Gateway Routing Protocol (IGRP) were reliable, but slow, and the newer emerging routing protocols, such as Open Shortest Path First (OSPF), were complex and unproven in the field.
Cisco Systems decided to bridge the gap between the existing technology and customer requirements with a new routing protocol, named Enhanced Interior Gateway Routing Protocol (EIGRP), that combined the simplicity and reliability of the old routing protocols, such as IGRP, with the fast convergence of the new breed of the routing protocols like OSPF. EIGRP was extremely easy to configure, but still allowed the network architect all the fine-tuning and tight control over route exchange that was lost with OSPF. Even more, EIGRP was the first routing protocol to support all three major protocol families found in the enterprise networks: IP, IPX, and AppleTalk.