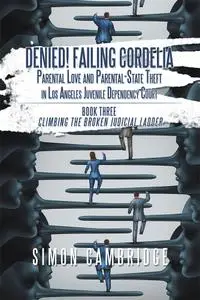 Denied! Failing Cordelia: Parental Love and Parental-State Theft in Los Angeles Juvenile Dependency Court: Book Three: Climbing the Broken Judicial Ladder by Simon Cambridge
English | September 17th, 2019 | ISBN: 1796037052, 1796037060 | 1058 pages | EPUB | 1.28 MB
Climbing the Broken Judicial Ladder continues the author's journey of exploring the heartbreak and loss of first adopting Cordelia with severe reactive attachment disorder (RAD) in Washington state and then of nearly losing her to the draconian and confused child welfare legal complex in Los Angeles. In this third volume of his Denied! Failing Cordelia trilogy, Cambridge climbs the broken California judicial ladder from the California Court of Appeals (Second Appellate District) based in Los Angeles to the California Supreme Court.