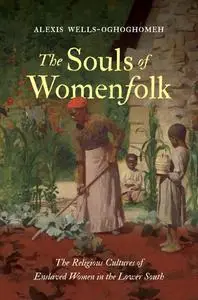 The Souls of Womenfolk: The Religious Cultures of Enslaved Women in the Lower South by Alexis Wells-Oghoghomeh
English | September 13th, 2021 | ISBN: 1469663600 | 320 pages | True EPUB | 2.51 MB
Beginning on the shores of West Africa in the sixteenth century and ending in the U.S. Lower South on the eve of the Civil War, Alexis Wells-Oghoghomeh traces a bold history of the interior lives of bondwomen as they carved out an existence for themselves and their families amid the horrors of American slavery. With particular attention to maternity, sex, and other gendered aspects of women's lives, she documents how bondwomen crafted female-centered cultures that shaped the religious consciousness and practices of entire enslaved communities. Indeed, gender as well as race co-constituted the Black religious subject, she argues—requiring a shift away from understandings of "slave religion" as a gender-amorphous category.