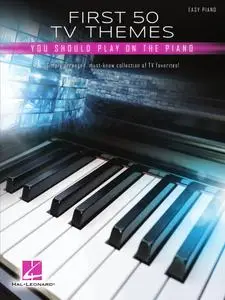 First 50 TV Themes You Should Play on Piano Songbook by
English | October 1st, 2019 | ISBN: 1540053075 | 138 pages | EPUB | 28.34 MB
(Easy Piano Songbook). Have you learned enough piano to feel ready to start playing from a songbook? Then the "First 50" series for piano will be perfect for you. This collection features 50 simply arranged, must-know TV themes in easy piano notation with lyrics. Songs include: Addams Family Theme * The Big Bang Theory * The Brady Bunch * Doctor Who XI * Downton Abbey (Theme) * Theme from Family Guy * Game of Thrones * Hawaii Five-O Theme * I'll Be There for You (Theme from Friends ) * Jeopardy Theme * Mission: Impossible Theme * Perry Mason Theme * Sesame Street Theme * Theme from the Simpsons * SpongeBob SquarePants Theme Song * Where Everybody Knows Your Name * Won't You Be My Neighbor? * and many more.