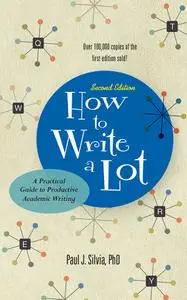 How to Write a Lot: A Practical Guide to Productive Academic Writing, 2nd Edition by Paul J. Silvia
English | October 2nd, 2018 | ISBN: 1433829738 | 110 pages | EPUB | 0.50 MB
All academics need to write, but many struggle to finish their dissertations, articles, books, or grant proposals. Writing is hard work and can be difficult to wedge into a frenetic academic schedule. How can we write it all while still having a life?