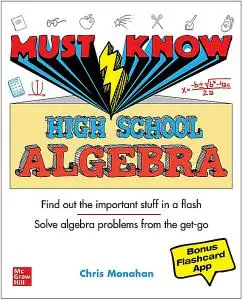 Must Know High School Algebra by Christopher Monahan
English | 2019 | ISBN: 1260452921 | AZW3 | 448 pages | 35 Mb
Algebra
This book is a Must Have for all levels of Algebra, from the student struggling to the more advanced Algebra student. The examples written out in words in addition to the mathematics are useful for the struggling student and strong student alike. Also included for many exercises is more than one way to solve or answer a question. For example, the work shown (and in words) for solving an equation both algebraically and graphically. To top it off, there are practice examples at the end of each section, with answers in the back (including work/explanation). We're have found this book useful both in the classroom and tutoring students one-on-one and strongly recommend this book for a teacher, student, tutor, or parent. It will help the struggling student gain confidence in their skills and the strong student hoan their skills for higher level thinking.
Dive into this book and find :
• 250+ practice questions that mirror what you will find in your classwork and on exams
• Extensive examples that drive home essential concepts
• An easy-access setup that allows you to jump in and out of subjects
• Algebra topics aligned to national and state education standards
• Special help for more challenging algebra subjects, including linear inequalities, quadratic functions, and etc