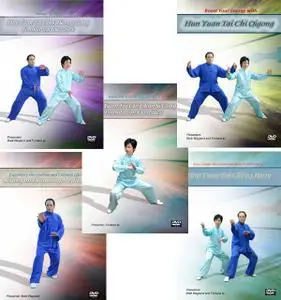 Tai Chi 5 DVD Set for Relaxation and Better Health
5xDVD5 | VIDEO_TS, PAL, 7000 kbps, 720x576 | English, AC3, 192 kbps, 2 Ch | 6+ hours | 17.64 GB
Instructors: Brett Wagland, Fontane Ip
"Gain the 12 Relaxation and Health Benefits of Tai Chi in the Convenience of Your Own Home When You Use our Easy to Follow Instructional DVDs!"
Many people have commented, "At last! A Tai Chi video that I can follow and learn from!" Why miss out on the relaxation and health benefits you could be enjoying? Now is the time to add a dose of tranquillity to your life!
These DVDs are perfectly suitable for beginners. However, no matter what style of Tai Chi you are doing, you will benefit from these foundation essentials. They are necessary ingredients to enable practitioners to achieve higher levels in Tai Chi training.
Your form will naturally improve because your mind will be calmer and more focused. Your body will be more relaxed, flexible, coordinated and supple from practising these exercises.
Your video collection will not be complete without this series of Tai Chi DVDs!
Tai Chi DVDs
As seen on Foxtel's Lifestyle Channel
Featuring Brett and Fontane, presenters of "Let's Get Fit"
Instruction in English
Interactive menu to select individual movement
Widescreen format
(1) Relax with Hun Yuan Tai Chi Fa Soong Gong Foundation Exercises DVD

Relieve stress
Experience relaxation and inner calm
Breathe more smoothly and deepy
Suitable for all people – No pre-requisite necessary – Easy and enjoyable

The Fa Soong Gong exercises enable us to experience relaxation and the sensation of qi (internal energy) in the hands. These 15 exercises are amazingly easy, effective and enjoyable. Doing some Fa Soong Gong movements before any sitting or standing meditation helps to settle the mind and body, allowing us to enter into a state of tranquillity easily.

(2) Boost Your Energy with Hun Yuan Tai Chi Qigong DVD

Feel deeply relaxed and calm
Enjoy harmony and balance in mind and body
Build greater energy and concentrate better

Suitable for all people – No pre-requisite necessary – Easy and enjoyable

Qi or life force energy flows through the meridian pathways in our bodies. Any hindrance in the flow of qi will lead to poor health or sickness. Traditional Chinese medicine talks about the smooth flow of qi throughout our bodies for calmness of mind and health of body.

The Hun Yuan Qigong form was once regarded as secret and was passed on only to close disciples. Grandmaster Feng Zhi Qiang, founder of the Hun Yuan Tai Chi system, taught this openly because it was important to him that enthusiastic and diligent students truly benefit from their practice, to improve the quality of their lives. This semi-dynamic Qigong form (12 movements) is extremely relaxing, beneficial and enjoyable. It is easy to do. It balances the nervous system. It increases the flow of qi and helps to train the mind to lead the qi. It especially focuses on fostering a deep level of relaxation and on cultivating energy in the Dan Tian (the body centre) to nurture oneself. This Qigong form helps you to feel and connect with the internal in the Tai Chi form. Every time you practise this Qigong form, you can expect clearer thinking and abundant energy.

(3) Increase Your Flexibility with Hun Yuan Tai Chi Chan Si Gong Foundation Exercises DVD

Enjoy improved circulation
Relieve stress
Notice more flexible and stronger joints and tendons
Develop toned muscles
Improve your balance to prevent falls

Suitable for all people – No pre-requisite necessary – Easy and enjoyable

The Chan Si Gong, which consists of 18 silk reeling exercises, is an important training method for developing body awareness and coordination. It is a link between building internal energy and expressing explosive force. It gradually enables you to build up power through coordination, linking all the body's joints like a string of pearls. It teaches you the Tai Chi principle of moving the body as one unit. A good practitioner's Tai Chi form will give the impression of moving like water – a domino wave like effect. This is due to the spiralling energy being expressed through each and every joint.

Practising the Chan Si Gong relieves tension in the joints, gives greater flexibility and freedom of movement, strengthens the joints and tendons, tones the muscles, enhances circulation and improves coordination and balance which helps to prevent falls. The benefits of Tai Chi become clear when you feel these gentle, circular, silk reeling movements working on your body. Experience how supple and flexible your body can be!

(4) Enjoy Greater Relaxation and Better Health with the Hun Yuan Tai Chi 24 form DVD

See your posture and coordination improve
Be stronger with better circulation
Feel relaxed with a sense of inner peace and joy
Increase your flexibility, physically and mentally
Gain better balance to help in falls prevention
Suitable for all people. It is essential that you use the following DVDs in conjunction with this DVD:

"Relax with Hun Yuan Tai Chi Fa Soong Gong Foundation Exercises"
"Boost Your Energy with Hun Yuan Tai Chi Qigong"
"Increase Your Flexibility with Hun Yuan Tai Chi Chan Si Gong Foundation Exercises"

The Tai Chi DVDs teach different aspects of the Hun Yuan system. All the aspects are combined together in the Hun Yuan Tai Chi 24 form. If you try to practise the Tai Chi form without understanding and feeling the different aspects, you will not find it as easy to learn and will not realise the depth of the form.

The Deep Relaxation exercises enable you to feel relaxed easily, a feeling you will want to experience in the Tai Chi form. The Qigong form enables you to experience a strong sensation of qi and trains you to use your intention to evoke the qi to guide the movements. The Flexibility exercises teach you to use the body in a silk reeling manner. This is how your generate the movements in the Tai Chi form. The Hun Yuan Tai Chi 24 form embodies the essence of the Hun Yuan system which cultivates internal energy and promotes relaxation and good health.

The Tai Chi form is the union of internal energy and the external body. It especially targets the tendons, ligaments and muscles. The Tai Chi form trains the intention, that is, the mind to guide the qi. We are learning to balance our inner energies through a focused, quiet mind and gentle movements.

Once you have learnt the 24 movements, the entire form takes only 8 minutes to complete. Busy people can easily fit it into their lifestyles. Relaxation, a sense of well being, true freedom of movement and better health are all within your reach!

(5) Experience the Healing and Calming Effects of Sitting and Standing Meditation DVD

Relieve stress
Encourage smooth and deep breathing
Cultivate calmness and qi (internal energy)
Promote qi and blood circulation
Improve concentration
Rejuvenate the body and the spirit

– Suitable for all people – No pre-requisite necessary

On this DVD, you will experience various meditation methods of relaxing the mind and body and making peace with yourself. You will also learn to develop concentration, expand your awareness and know your mental and emotional states. You will discover how to restore balance and build internal power.

By understanding the principles of good posture, you can improve structural strength and whole body coordination. Knowing the Gate of Life meridian point will help you to hold your lower back correctly without being too soft or tense, thus reducing the risk of injury.

Reconnect with your inner peace!