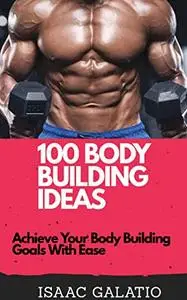 100 BodyBuilding Ideas: Achieve Your Body Building Goals With Ease (Ideas Series Book 2) by Isaac Galatio
English | 2020 | ISBN: N/A | ASIN: B08Q8MGXSG | 40 pages | EPUB | 0.09 Mb
WANT TO KNOW HOW TO START BODYBUILDING?
HAVE YOU SET BODYBUILDING GOALS AND NEED SOME MOTIVATION TO STAY THROUGH?
This book will help you achieve your bodybuilding goals, and equip you with necessary foundation to achieve long time results.
In this simple, straight and short book, you will learn about:
•Bodybuilding workouts and exercises
•Bodybuilding advance techniques
•The do's and don'ts
•Where to concentrate to achieve fast results
•And 96 powerful ideas to achieve the best results
Your bodybuilding goal is achievable; let this book be your companion.
Order now!
Feel Free to contact me for book requests, informations or feedbacks.
Without You And Your Support We Can't Continue
Thanks For Buying Premium From My Links For Support