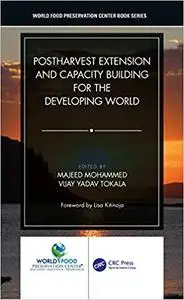 Postharvest Extension and Capacity Building for the Developing World
CRC Press | English | 2019 | ISBN-10: 1138069280 | 226 pages | PDF | 7.75 MB
by Majeed Mohammed (Editor), Vijay Yadav Tokala (Editor)
It is estimated that around 1.3 billion tons per year of food produced for human consumption, which is about one-third of all food produced, is either lost or wasted globally. Reduction of the postharvest losses is being considered as one of the sustainable ways to ensure world food security.
Postharvest Extension and Capacity Building for the Developing World provides information on postharvest extension/outreach programs, capacity building, and practical methodologies for postharvest extension professionals and food science teachers, food processing trainers, and outreach specialists who work in the field.
The book provides information on training of postharvest trainers, food loss assessment methods, capacity building in universities and agro-industry, distance education methods, models for cost effective postharvest/food processing extension work, success stories, and lessons learned from past projects and programs.
The book is divided into four sections. Section I explains postharvest loss assessments methods, Section II is on capacity building, and Sections III and IV focus on training and postharvest extension models. Food loss assessment methodologies are highlighted from several high-profile institutions and it is envisioned that researchers and postharvest extension personnel will benefit from the development and field testing of a hybrid methodology, incorporating the strengths and utilizing the best practices from each of the methodologies in current use. Chapters cover postharvest extension work and capacity building in a wide range of regions
About the Author
Majeed Mohammed is a Professor of Postharvest Physiology at the University of the West Indies (UWI), where he has taught for the past 30 years. After completion of his BSc in Agriculture from the UWI in 1977, he obtained his MSc and PhD in Postharvest Physiology at the University of Guelph (1984) and UWI (1992). He is currently a Board Director with the Postharvest Education Foundation as well as a member of the United Nations/Food and Agriculture Organization Panel of Experts from Latin America and the Caribbean on the Prevention and Reduction of Food Losses and Waste.
Vijay Yadav Tokala is serving on the board of directors for the Postharvest Education Foundation, AQ 1 a non-profit organization committed to reducing global postharvest losses and food waste by organizing and managing postharvest e-learning programs and training activities for the participants from more than 25 different nations. He has worked as Horticulture Officer in the government of Andhra Pradesh (India) with the roles of field consultant and extension officer, with the main job objective of enhancing quality horticulture production and encouraging farmers towards safe postharvest handling and processing in both rural and urban areas.
He is pursuing a PhD in postharvest horticulture at Curtin University, Western Australia, and studying the effect of novel ethylene antagonists to increase the storage life of fruits in different storage environments. He won the prestigious International Postgraduate Research Scholarship (IPRS)-2016 and Australian Postgraduate Award (APA) to pursue a PhD. His undergraduate studies specialized in horticulture and he was a college topper at Dr. Y. S. R. Horticultural University, India. His postgraduate research focused on fruit and vegetable processing and he was awarded a University Gold Medal for being a topper at S. K. Rajasthan Agricultural University, India
Feel free to contact me for book requests when possible, informations or feedbacks. Also, those who support me: You're the real MVPs.