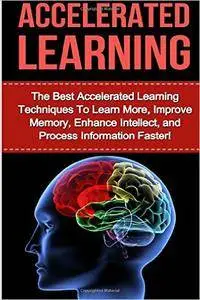 "Accelerated Learning: The Best Accelerated Learning Techniques to Learn More, Improve Memory, Enhance Intellect and Process Information Faster" by Tracy Bethens
2016 | EPUB | 32 pages | ISBN: 1530042488 | English | 0.1 MB
You're about to discover some of the best accelerated learning techniques that exist! If you have been struggling with your education, and have feeling experiencing difficulty learning at an acceptable rate, then I have the perfect solution for you! Regardless of your age, gender or even your educational level this book has some of the greatest methods and strategies for accelerated learning.
The truth is most people fail to ever improve their learning abilities because they lack the information that can really make a noticeable difference. Well forget that, in this book I am going to share a wealth of information that will make a difference in your learning abilities in a very short period of time. The knowledge held within this book has changed my life and has allowed me to excel in my academics and grow as a person at a speed I could have never imagined.
Not only has this book helped me tremendously, but the concepts held within this book have changed the lives of thousands of people to accelerate their learning abilities. Don't worry, I am going to take you by the hand in this book and show you exactly what it takes to learn faster, process information quicker, retain information longer, and much more!
Here Is A Preview Of What You'll Learn…

How Does Accelerated Learning Work?
Effective Ways to Learn Effectively
Improving Your Memory
Training Your Brain for Success
Putting It All Together
Much, much more!