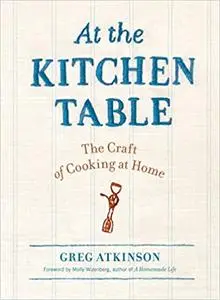 Greg Atkinson, "At the Kitchen Table: The Craft of Cooking at Home"
English | 2014 | ISBN: 1570617341 | 256 pages | EPUB | 1.2 MB
This is a book of more than two dozen essays about eating, food, the meaning of coming together at the table, and the pleasures of home cooking. Greg Atkinson, chef and writer, brings the perspective of one who has harvested shellfish with fishermen in Puget Sound, walked the rows during harvest at Oregon vineyards, as well as sourced ingredients at the local big box retailer. According to Atkinson, the measure that's most valuable is the amount of heart that brings people together for a meal–less important is the pedigree of the extra virgin olive oil that's used. In this book, Atkinson brings memorable meals to life, shares the special experience of making borscht, reveals tips and tidbits on cooking that he has garnered from foodie royalty that have passed through his kitchen, even about his aversion to fishing for trout and his pleasure in preparing them on camping trips to favorite mountain lakes. At the Kitchen Table is about the meaning of eating, the broad culinary web we enter with every bite we take, and the special sanctuary that is the home kitchen.
Each essay is concluded with several recipes–more than 70 total.