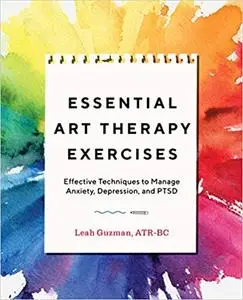 Leah Guzman ATR-BC, "Essential Art Therapy Exercises: Effective Techniques to Manage Anxiety, Depression, and PTSD"
English | 2020 | ISBN: 1646111621 | 162 pages | EPUB | 4.5 MB
Process difficult thoughts and feelings with art therapy
This colorful workbook shows you how creating art can help ease depression, anxiety, and PTSD. From drawing a representation of your favorite song, to writing affirmations and taking photos to match, these therapeutic exercises will help you overcome the mindsets that are holding you back and lead you toward inner peace. Some take only five minutes, others up to an hour, but all of them explore a range of artistic mediums, so you can choose exactly what works for you.
Find clarity and comfort with this behavioral therapy workbook, which includes:
Exercises for self-expression―75 relaxing and engaging art exercises will help you express yourself and cope with mood and personality disorders with mindfulness.
Insightful prompts―Every activity describes its benefits and offers thoughtful prompts to help you get the most out of each experience.
Beginner-friendly guidance―Discover how easy and enlightening art therapy can be with help on what art supplies you'll need and how to create a healing space.
With this art therapy workbook, you'll find the positivity and peace you need to manage your emotions and heal.