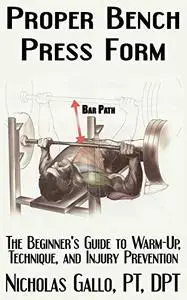 Proper Bench Press Form: The Beginner's Guide to Warm-Up, Technique, and Injury Prevention by Nicholas Gallo
December 7, 2018 | ISBN: 1790917360 | English | 48 pages | EPUB + PDF(Converted) | 2 + 0.8 MB
IMPROVE YOUR BENCH PRESS TECHNIQUE: It is easy to start to develop bad habits especially if you are not taught properly how to perform the Bench Press exercise. With Proper Bench Press Form you will learn exactly how to perform the exercise safely and effectively. CLEAR SYSTEMATIC APPROACH: Proper Bench Press Technique provides a clear cut approach to allow you to be mindful of common Bench Press mistakes. These common mistakes can lead to injuries such as shoulder, wrist, and or lower back pain during the exercise. CLINICALLY PROVEN EXERCISES: This publication includes warm-up and injury prevention exercises used in the clinical setting to aid people in performing the Bench Press pain free. The exercises included also target muscles not commonly focused on when weightlifting. These muscles are commonly injured when neglected. GET STARTED TODAY WITH "PROPER BENCH PRESS FORM"With "Proper Bench Press Form," you will take the essential steps toward proper warm-up, technique, and injury prevention.