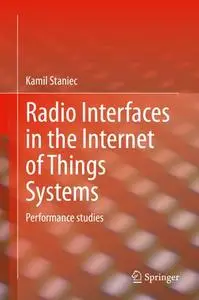 Radio Interfaces in the Internet of Things Systems: Performance studies by Kamil Staniec
English | PDF,EPUB | 2020 | 208 Pages | ISBN : 3030448452 | 27 MB
The book gives a broad overview of the Internet of Things (IoT) concept from various angles. The book provides rationale for: the concept development; its regulatory and technical background associated aspects such as the ambient and edge intelligence; fog computing; capillary networks and machine-type communications; etc. Each of these items is then extended in further respective chapters that deal with technicalities behind them.
Chapters: 2-5, 8, 10-11 are addressed to those who seek expository IoT-related information on aspects such as the pathloss calculation, narrowband radio interfaces, radiation masks, spectrum matters, medium access control, and a transmission frame construction. That section ends with an exhaustive description of the six most popular IoT systems: LoRa, Weightless, SigFox, NB-IoT, LTE-M(TC) and EC-GSM IoT. Specialists and network designers may find chapters 6 and 7 interesting where a novel methodology is proposed for testing narrowband IoT systems performance for immunity to electromagnetic interference (EMI) and multipath propagation, both emulated in artificial conditions of the anechoic and the reverberation chamber.
Provides a thorough, easy to comprehend, explanation of benefits resulting from replacing traditional cellular technologies with IoT systems for handling machine-type communications;
Presents a detailed yet easy-to-follow guide to techniques used in IoT radio interfaces, with explanations of mechanisms;
Includes a step-by-step methodology for measuring IoT device performance under variable-quality operating conditions.
i will be very grateful when you

support

me and buy Or Renew Your Premium from my Blog links
i appreciate your

support

Too much as it will help me to post more and moreWithout You And Your

Support

We Can't Continue
Thanks For Buying Premium From My Links For

Support