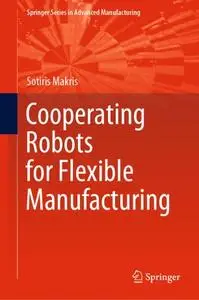 Cooperating Robots for Flexible Manufacturing by Sotiris Makris
English | PDF | 2021 | 415 Pages | ISBN : 3030515907 | 23.21 MB
This book consolidates the current state of knowledge on implementing cooperating robot-based systems to increase the flexibility of manufacturing systems. It is based on the concrete experiences of experts, practitioners, and engineers in implementing cooperating robot systems for more flexible manufacturing systems.
Thanks to the great variety of manufacturing systems that we had the opportunity to study, a remarkable collection of methods and tools has emerged. The aim of the book is to share this experience with academia and industry practitioners seeking to improve manufacturing practice. While there are various books on teaching principles for robotics, this book offers a unique opportunity to dive into the practical aspects of implementing complex real-world robotic applications.
As it is used in this book, the term "cooperating robots" refers to robots that either cooperate with one another or with people. The book investigates various aspects of cooperation in the context of implementing flexible manufacturing systems. Accordingly, manufacturing systems are the main focus in the discussion on implementing such robotic systems.
The book begins with a brief introduction to the concept of manufacturing systems, followed by a discussion of flexibility. Aspects of designing such systems, e.g. material flow, logistics, processing times, shop floor footprint, and design of flexible handling systems, are subsequently covered. In closing, the book addresses key issues in operating such systems, which concern e.g. decision-making, autonomy, cooperation, communication, task scheduling, motion generation, and distribution of control between different devices.
Reviewing the state of the art and presenting the latest innovations, the book offers a valuable asset for a broad readership.
i will be very grateful when you

support

me and buy Or Renew Your Premium from my Blog links
i appreciate your

support

Too much as it will help me to post more and moreWithout You And Your

Support

We Can't Continue
Thanks For Buying Premium From My Links For

Support