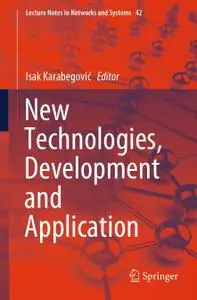 New Technologies, Development and Application By Isak Karabegović

English | PDF,EPUB | 2019 | 622 Pages | ISBN : 3319908928 | 109 MB
The papers included in this book were presented at the International Conference "New Technologies, Development and Application," which was held at the Academy of Sciences and Arts of Bosnia and Herzegovina in Sarajevo, Bosnia and Herzegovina on 28th–30th June 2018.
The book covers a wide range of technologies and technical disciplines including complex systems such as: Robotics, Mechatronics Systems, Automation, Manufacturing, Cyber-Physical Systems, Autonomous Systems, Sensors, Networks, Control Systems, Energy Systems, Automotive Systems, Biological Systems, Vehicular Networking and Connected Vehicles, Effectiveness and Logistics Systems, Smart Grids, Nonlinear Systems, Power Systems, Social Systems, and Economic Systems.
Dear Visitors,
When You Buy Premium Account From Icerbox From Any Of

My Blog

Files, I Will Get percentage From Icerbox

Not You


So Your

Support

For Me Will come Without

Loosing

Anything And I Keep Posting For You
Thanks For Your

Support

.