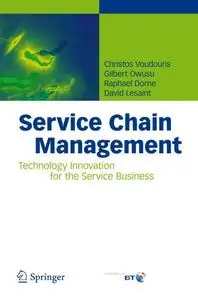 Service Chain Management: Technology Innovation for the Service Business by Raphael Dorne
English | PDF | 2008 | 304 Pages | ISBN : 3540755039 | 3.86 MB
Service chain management enables service organisations to improve customer satisfaction and reduce operational costs through intelligent and optimised forecasting, planning and scheduling of the service chain, and its associated resources such as people, networks and other assets.
The area is quite broad, covering field force and workforce automation, network and asset planning and also aspects of customer relationship management, human resources systems and enterprise resource planning. Furthermore, it addresses the key challenge of how all these technologies and systems are integrated into a cohesive blueprint.
In this book, Christos Voudouris and his group together with experts from industry and academia present the latest innovations and technologies used to manage the operations of a service company. The viewpoints presented are, based on the BT experience and on associated research and development in collaborating universities and partner companies. The focus is on real-world challenges and how technologies can be used to overcome practical problems in a "don't just survive, thrive!" approach.
The unique combination of technologies, experiences and systems, looked at from the different perspectives of service providers and users and combined with advice on successful benefit realisation and agile delivery of solutions, makes this an indispensable read for managers and system architects in the service industry.
i will be very grateful when you

support

me and buy Or Renew Your Premium from my Blog links
i appreciate your

support

Too much as it will help me to post more and moreWithout You And Your

Support

We Can't Continue
Thanks For Buying Premium From My Links For

Support