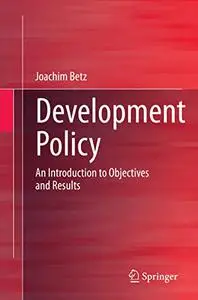 Development Policy: An Introduction to Objectives and Results by Joachim Betz
English | EPUB | 2022 | 213 Pages | ISBN : 3658350105 | 11.4 MB
Developing countries have made rapid but highly varied progress since the 1990s. So much so that the boundaries to the traditional industrialized countries have become partially blurred. On the other hand, there are a number of mostly fragile states that have not succeeded in doing so, or have only rudimentarily succeeded. Talk of one "Third World" and common development problems thus explains little. Instead, development has become a requirement for all states, which this textbook breaks down and assesses according to key development goals.
This book is a translation of the original German 1st edition Entwicklungspolitik by Joachim Betz, published by Springer Fachmedien Wiesbaden GmbH, part of Springer Nature in 2021. The translation was done with the help of artificial intelligence (machine translation by the service DeepL.com). A subsequent human revision was done primarily in terms of content, so that the book will read stylistically differently from a conventional translation. Springer Nature works continuously to further the development of tools for the production of books and on the related technologies to support the authors.
The Author
Prof. Dr. Joachim Betz was Principal Research Fellow at the GIGA Institute of Asian Studies in Hamburg.