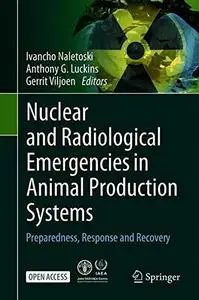 Nuclear and Radiological Emergencies in Animal Production Systems, Preparedness, Response and Recovery by Ivancho Naletoski
English | PDF,EPUB | 2021 | 205 Pages | ISBN : 3662630206 | 10.4 MB
This volume explains how major nuclear and radiological emergencies (NREs) can have implications at local, national and international level. The response to NREs requires a competent decision-making structure, clear communication and effective information exchange.
National veterinary services have the responsibility to plan, design and manage animal production system in their countries. These activities cover animal health, animal movement control, production control and improvement, and control of the products of animal origin before their placement on the market.
Release of radionuclides after NREs can cause substantial contamination in the animal production systems. Critical responsibility of veterinary authorities is therefore to prevent such contamination, establish early response mechanisms to mitigate the consequences and prevent placement of contaminated products of animal origin on the market for human consumption.
This work summarizes the critical technical points for effective management of NREs for national veterinary services.
Please Please :( We Are Here For You And Without You And Your

Support

We Can't Continue
Thanks For Buying Premium From My Links For

Support
i will be very grateful when you

support

me and buy Or Renew Your Premium from my Blog links
i appreciate your

support

Too much as it will help me to post more and moreWithout You And Your

Support

We Can't Continue
Thanks For Buying Premium From My Links For

Support