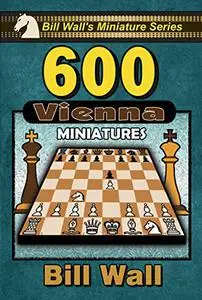 600 Vienna Miniatures by Bill Wall
English | 2022 | ISBN: N/A | ASIN: B0BL8TV115 | 162 pages | PDF | 9.30 Mb
The Vienna Game (1.e4 e5 2.Nc3) was originally called Hamppe's Game after Carl Hamppe By the 1890s, the opening was popular with chess players in Vienna. The knight on c3 supports the center and allows White to play 3.f4 (the Vienna Gambit). The Vienna is a flexible opening with many traps for both sides. The opening is for aggressive players as well as positional players alike. The opening is one of the most fundamentally sound openings in chess, but both sides must be prepared for strong attacks and possible sacrifices.
This collection of over 600 short, decisive chess games, beginning with 1.e4 e5 2. Nc3, comes from a variety of sources from around the world. From the 19th century to the latest tournaments of the 21st century, the Vienna Game has been played and miniatures have been created under 25 moves. From kibitzer to grandmaster, this opening has been tried successfully as White or defended well as Black. All of these short games are meant to be instructive entertainment while learning the tactical threats and proper defenses arising from the Vienna Game.
All of the chess games include light notes and variations of better lines to play or threatened moves. Chess diagrams have been added to the more interesting games with combinational play. This instructive game collection of Vienna miniatures will be of interest to all players who play this opening or need to defend against it. Enjoy!