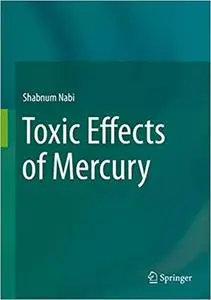 Shabnum Nabi, "Toxic Effects of Mercury"
English | 2014 | ISBN: 813221921X | PDF | pages: 265 | 8.6 mb
Mercury is widespread in our environment. Methylmercury, an organic form of mercury, can accumulate in the aquatic food chain and lead to high concentrations in predatory fish. When consumed by humans, contaminated fish represent a public health risk. Toxic Effects of Mercury intends to facilitate among its readers the understanding of the importance of mercury pollution in the environment and the health consequences associated with exposure to this metal. The knowledge on methylmercury (MeHg) toxicity collected over the years is undoubtedly robust creating an impression all that is to be learnt about this metal has already been accomplished. However, in large measure, past knowledge has merely laid the ground for interesting questions that have yet to be fully addressed and concepts have yet to be deciphered. One of my major goals was to make a valiant attempt to include state-of-the-art information on the mechanisms of mercury toxicity, describing its effects on cultured cellular systems as well as in whole living organisms, starting from the lessons learned from the tragic events in Minamata Bay, Japan. A special focus of the book is on the neurotoxic effects of MeHg. An understanding at the cellular level is necessary to gather information on the structural and functional alterations induced by MeHg and how they possibly become unmasked and evident at the behavioral level, 32 chapters of the book have been organised having these considerations in mind.
This book will provide state-of-the-art information to the graduate students training in toxicology, risk assessors, researchers and medical providers at large. It is aimed to bring the readers updated information on contemporary issues associated with exposure to methylmercury, from its effects on stem cells and neurons to population studies. It is a valuable resource for individuals interested in the public health effects and regulation of mercury. The report provides an excellent example of the implications of decisions in the risk assessment process for a larger audience and is written with the hope that the information will provide better understanding of the mercury problems which confront us.