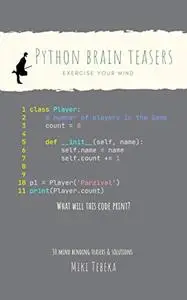 Miki Tebeka, "Python Brain Teasers: 30 brain teasers to tickle your mind and help become a better developer"
English | 2020 | ASIN: B0881YP492 | 118 pages | PDF | 0.57 MB
In this book you'll find 30 brain teasers. Each come with a solution and an explanation on Python's internals and why the program behave this way. You'll have fun, and learn a lot about Python along the way.