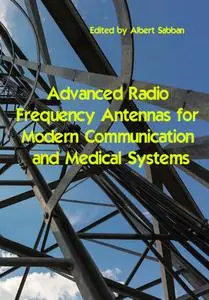 "Advanced Radio Frequency Antennas for Modern Communication and Medical Systems" ed. by Albert Sabban
ITExLi | 2020 | ISBN: 1839683465 9781839683466 1839683457 9781839683459 1839683473 9781839683473 | 248 pages | PDF | 43 MB
The main objective of this book is to present novel radio frequency (RF) antennas for 5G, IOT, and medical applications. This book presents information on planar antennas, cavity antennas, Vivaldi antennas, phased arrays, MIMO antennas, beamforming phased array reconfigurable Pabry-Perot cavity antennas, and time modulated linear array.
The book is divided into four sections that present the main topics of radio frequency antennas. The rapid growth in development of cellular wireless communication systems over the last twenty years has resulted in most of world population owning smartphones, smart watches, I-pads, and other RF communication devices. Efficient compact wideband antennas are crucial in RF communication devices.
Contents
1.Introductory Chapter: Novel Radio Frequency Antennas
2.Wideband Wearable Antennas for 5G, IoT, and Medical Applications
3.Planar Antenna Design for Internet of Things Applications
4.Phased Antenna Arrays toward 5G
5.Design of a UWB Coplanar Fed Antenna and Circular Miniature Printed Antenna for Medical Applications
6.Beamforming Phased Array Antenna toward Indoor Positioning Applications
7.Antennas for Space Applications: A Review
8.A Novel Class of Super-Elliptical Vivaldi Antennas for Ultra-Wideband Applications
9.Additive Manufacturing for Antenna Applications
10.A Review to Massive MIMO Detection Algorithms: Theory and Implementation
11.Reconfigurable Fabry-Pérot Cavity Antenna Basing on Phase Controllable Metasurfaces
12.Time Modulated Linear Array (TMLA) Design
1st true PDF with TOC BookMarkLinks