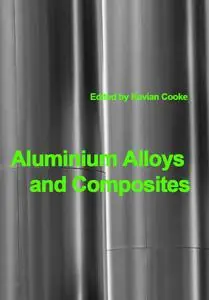 "Aluminium Alloys and Composites" ed. by Kavian Cooke
ITExLi | 2020 | ISBN: 1789845157 9781789845150 1789845149 9781789845143 1838800808 9781838800802 | 159 pages | PDF | 27 MB
This book is a comprehensive guide on the different types of aluminum alloys and the new advances that have been made in developing and manufacturing aluminum alloys and composites. This text provides a comprehensive overview of the processing, formability, and chemical composition of aluminum alloys and composites.
Aluminium (Al) is a metal of great importance because of its excellent corrosion resistance, high electrical and thermal conductivity, good reflectivity, and very good recycling characteristics. The properties of heat-treatable Al-alloys can be further enhanced by the inclusion of a reinforcing phase that increases the mechanical properties of the overall composite.
Part One is focused on evaluating the types and properties of advanced aluminum alloys and composites, while Part Two explores characterization.
The advantage of this book is that it provides a detailed review of major advances that have occurred in the development and application of aluminum alloys and composites while outlining a development strategy for these materials.
Contents
1.Introductory Chapter: Structural Aluminum Alloys and Composites
2.Aluminum Mineral Processing and Metallurgy: Iron-Rich Bauxite and Bayer Red Muds
3.Aluminium and Its Interlinking Properties
4.Composites and Alloys Based on the Al-Ce System
5.Novel Applications of Aluminium Metal Matrix Composites
6.Effect of Grain Size on Superplastic Deformation of Metallic Materials
7.Wear Behaviour of Aluminium Alloy 8011 with 4% Fly Ash Composites by Using Sensitivity Analysis
8.Experimental Investigations on AA 6061 Alloy Welded Joints by Friction Stir Welding
9.Aluminum Alloys Behavior during Forming
1st true PDF with TOC BookMarkLinks