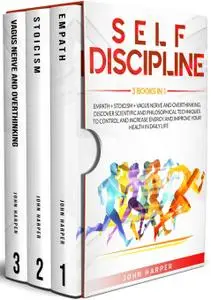 Self-Discipline: 3 Books in 1: Empath + Stoicism + Vagus Nerve And Overthinking. Discover Scientific and Philosophical Techniques to Control and Increase Energy and Improve Your Health In Daily Life.
John Harper | 2020 | ISBN: 9798646346873, ASIN: B0894XQ4TB | 358 pages | EPUB, PDF(conv) | 2 MB, 4 MB
Are you looking for information and methods to understand your body, take control of your emotions and improve your habits?
Here is the deal… In these difficult times, most people have tried to analyze the energy around us and understand the current situation to find a new way of life, but it is difficult to understand how to change our lives while we are constantly exposed to negative external information and energies that affect our minds and more. As a result, we sometimes feel undecided, stressed and anxious, we struggle to understand the problems of our mind and body to deal with the situation around us and make the appropriate decisions.
If you are facing any of these problems, keep reading.This book is probably what you need…
Many problems in our lives depend primarily on how we manage our emotions and information along with the energy we receive from the outside. It is also fundamental to understand our body and the ensuing problems, as it can be difficult to figure out precisely the cause of a symptom we feel if we do not also know the state of health of our body. Understanding how to control and use our energy and emotions, and knowing our potential, is therefore extremely important to tackle life.
This Book Includes: Empath, Stoicism, Vagus Nerve and Overthinking.