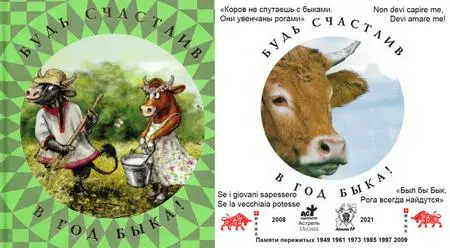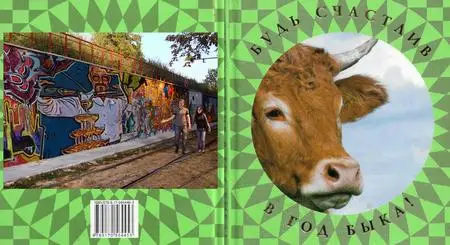 "Будь счастлив в год быка! / Be Happy in the Year of the Bull!" SE ed. by EvA Li
Серия "Что я видел": Памяти пережитых 1949 1961 1973 1985 1997 2009
AST/ITexLi | 2008/2021 | ISBN: 9780049483132 0049483137 9789829481337 9829481336 | 181 pages | PDF | 50 MB
12 февраля в 5:03 по-пекински наступил очередной НГ - по-китайски.
"Быков[о!] (как и пива) много не бывает!" В этой книге собраны фото с веселыми комментариями из жизни "Коров и Быков"
February 12 at 5:03 CST / 0:03 MSK another NY has come - in Chinese.
"Bulls [oh!] (Like beer) are never too mach!" This book contains photos with funny comments from the life of "Cows and Bulls"
В этой прекрасно иллюстрированной веселой книге собраны замечательные фото животных, о которых можно сказать так
«Коров не спутаешь с быками. Они увенчаны рогами»
или чуть конкретнее так:
«Был бы Бык, а рога всегда найдутся»
Эти и подобные веселые строки-комментарии, думаю, не оставят равнодушными никого.
Улыбайтесь!
Книга эта может стать прекрасным подарком для ваших близких и знакомых любого возраста.
SE (второе издание) включает приложение "Бык[О!Во!!] и его замечательные соседи-окрестности" (Byk[Oh! Wow !!] and its Wonderful Neighborhood Neighbors) из серии "Что я видел" - любимой книги дошкольного детства тех, кто родился и вырос в суровые послевоенные годы.
In English
This beautifully illustrated funny book contains wonderful photos of animals, about which you can say so.
"Cows cannot be confused with bulls. They are crowned with horns"
or more specifically like this:
"There would be a Bull, but there will always be horns"
These and similar funny comment lines, I think, will not leave anyone indifferent.
Smile!
This book can be a wonderful gift for your relatives and friends of any age.
SE (second edition) includes an appendix "Byk[Oh! Wow !!] and its wonderful neighborhood neighbors" from the "What I Saw" series, a favorite preschool book those who were born and raised in the harsh post-war years.
Contents
Предисловие / Foreword
История "украинизации" российской ономастики и топонимики / The history of the "Ukrainianization" of Russian onomastics and toponymy
Быково / Bykovo
Спас-Беседа Spas-Beseda
Лаврово. Перекат / Lavrovo. Rift
Судогда / Sudogda
На Муромской дорожке: Родник «Фонтан» / On the Murom track: Spring "Fountain"
Муромцево. Замок Храповицкого / Muromtsevo. Khrapovitsky Castle
Вместо Послесловия / Instead of Afterword
1st true PDF with TOC BookMarkLinks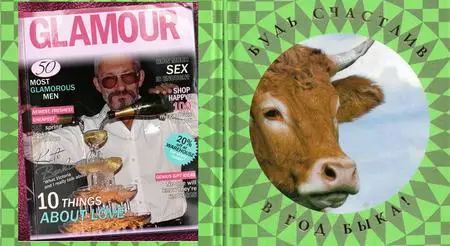 More :
You find here