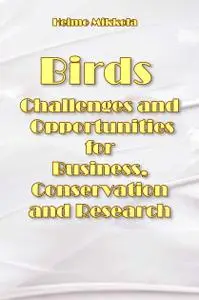 "Birds: Challenges and Opportunities for Business, Conservation and Research" ed. by Heimo Mikkola
ITexLi | 2021 | ISBN: 1839689986 9781839689987 1839689978 9781839689970 1839689994 9781839689994 | 142 pages | PDF | 19 MB
This book includes nine chapters covering such topics as bird genetics, the colour of avian plumage, conservation problems, sustainable hunting, habitat disturbance, range expansion and introductions, and long-term bird population changes and challenges. A key chapter explains the genetic rules and reasons why we have continuously more bird species in the world and why we may end up having 7,000 species more than the present 11,000 species.
For many humans, birds are the most fascinating group of animals and they are definitely among the best-known and studied organisms. Thanks to global citizen science data, we know that there are some 50 billion individual birds in the world at present, which is about six birds for every human on the planet. Birds have an important role as indicators of the state of the environment, giving them high public value. Human-related global impacts such as climate changes and accelerating urbanization force extant species to continuous adaptations, population modifications, or even outright extinction.
Contents
1. DNA Analyses Have Revolutionized Studies on the Taxonomy and Evolution in Birds
2. Haloarchaea May Contribute to the Colour of Avian Plumage in Marine Ecosystems
3. Viscous Drag Reduction and Contour Feather Geometry in Water and Land Birds
4. Seabirds of the Benguela Ecosystem: Utilisation, Long-Term Changes and Challenges
5. Avifauna in Relation to Habitat Disturbance in Wildlife Management Areas of the Ruvuma Miombo Ecosystem, Southern Tanzania
6. The Limit to the Density of Species (A Reflection on Human Intervention in Conservation and Its Effects)
7. Rhea americana Distribution: Range Expansion and Introductions of America's Largest Bird
8. Management of the Barnacle Goose (Branta leucopsis) in Finland: Conservation versus Hunting
9. The Conservation of European Goldfinch in North Algeria
1st true PDF with TOC BookMarkLinks
More :
You find here