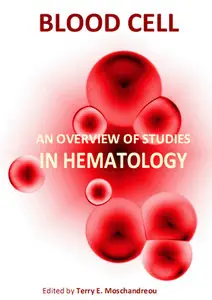 "Blood Cell: An Overview of Studies in Hematology" ed. by Terry E. Moschandreou
ITAe | 2012 | ISBN: 9535107534 9789535107538 | 359 pages | PDF | 14 MB
This book aims to provide an overview of current knowledge pertaining to our understanding of hematology. The main subject areas will include blood cell morphology and function, the pathophysiology and genetics of hematological disorders and malignancies, blood testing and typing, and the processes governing hematopoiesis.
Blood cell physiology, biochemistry and blood flow are covered in this book. This text is designed for hematologists, pathologists and laboratory staff in training and in practice.
The work presented in this book will be of benefit to medical students and to researchers of hematology and blood flow in the microcirculation.
Contents
Preface
Section 1 Main Concepts
1 Platelets
2 Rediscovering Red Blood Cells: Revealing Their Dynamic Antigens Store and Its Role in Health and Disease
3 Homocysteine in Red Blood Cells Metabolism - Pharmacological Approaches
4 Pluripotent Stem Cells in Bone Marrow and Cord Blood
5 C-Reactive Protein
6 Whole Blood RNA Analysis, Aging and Disease
7 Proliferation and Differentiation of Hematopoietic Cells and Preservation of Immune Functions
8 Spontaneous Alternation Behavior in Human Neutrophils
9 RBC-ATP Theory of Regulation for Tissue Oxygenation-ATP Concentration Model
Section 2 Measurement of RBC Defbrmability and Microflu id ics Technology for Cell Separation
10 Measurement Techniques for Red Blood Cell Defbrmability: Recent Advances
11 Use of Microflu id ic Technology for Cell Separation
Section 3 Applications in Haematology
12 Tigers Blood: Haematological and Biochemical Studies
13 Ascites Syndrome in Broiler Chickens - A Physiological Syndrome Affected by Red Blood Cell
14 The Effects of the Far-Infrared Ray (FIR) Energy Radiation on Living Body
15 Laboratory Reference Intervals in Africa
16 Principles of Blood Transfusion
with TOC BookMarkLinks