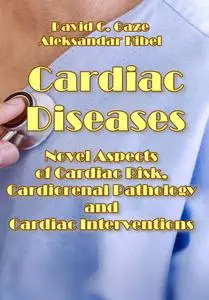 "Cardiac Diseases: Novel Aspects of Cardiac Risk, Cardiorenal Pathology and Cardiac Interventions" by David C. Gaze, Aleksandar Kibel
ITexLi | 2021 | ISBN: 1839681624 9781839681622 1839681616 9781839681615 1839681632 9781839681639 | 323 pages | PDF | 27 MB
This is the latest book in a series of cardiovascular-related texts from IntechOpen Publishing. This volume considers general aspects of cardiac disease and is divided into three distinct sections covering cardiac risk, cardiorenal pathology, and novel interventional surgical techniques.
The chapters offer insight into the current state of the art with respect to the risks of developing cardiovascular diseases, maintenance of patent vascular access in patients with the cardiorenal syndrome, and a plethora of novel interventional technologies all aimed at salvaging damaged tissue and improving prognosis and reducing mortality. This volume of 18 chapters is intended for general medical and biomedical students at both undergraduate and postgraduate level. It also offers insightful updates on recent advances in the understanding of the pathophysiology of cardiac diseases and the new techniques added to the medical armamentarium to improve the outcomes and prevent mortality and would be of interest to those working in academia and healthcare science.
Contents
1. Correlations between Inflammation and Thrombosis in the Pathogeny of Myocardial Infarction
2. Acute Myocardial Infarction: Perspectives on Physiopathology of Myocardial Injury and Protective Interventions
3. Epigenetics of Circadian Rhythm Disruption in Cardiovascular Diseases
4. Overview of the Global Prevalence and Diagnostic Criteria of Takotsubo Syndrome
5. Gender Differences in Clinical Outcomes of Patients with Coronary Artery Disease after Percutaneous Coronary Intervention
6. Obesity Acceptance: Body Positivity and Clinical Risk Factors
7. Genetic Determinant of Familial Dilated Cardiomyopathy and Genotype-Targeted Therapeutic Strategy
8. Coronavirus Disease: Epidemiology, Aetiology, Pathophysiology and Involvement of the Cardiovascular System
9. The Function of Seven Transmembrane Receptors in the Cardiovascular System and Their Role in the Development of Cardiomyopathy
10. Hemodialysis Vascular Access with Central Venous Disease
11. Early Detection and Endovascular Intervention to Correct Dialysis Vascular Access Malfunction
12. Coronary Artery Intervention Techniques
13. Primary Angioplasty: From the Artery to the Myocardium
14. Management of Ascending Aorta Calcification in Coronary Artery Bypass Grafting
15. Methods of Reconstruction for Distal Aortic Dissection
16. Nonresectional-Graded Neo Chordal Dynamic Repair of Mitral Valve: Stress Analysis Induced Surgical Innovation
17. Complications of Minimally Invasive Left Ventricular Assistance Device Implantation
18. Internal Flow Choking in Cardiovascular System: A Radical Theory in the Risk Assessment of Asymptomatic Cardiovascular Diseases
1st true PDF with TOC BookMarkLinks
More :
You find here