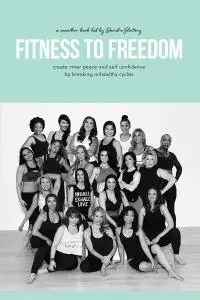 Fitness to Freedom: Create Inner Peace and Self Confidence by Breaking Unhealthy Cycles by Rachel Balunsat, Pauline Caballero, Heather Chapman, Julia Cochrane, Nadia Dedic, Erica Glassford, Annie Graft, Carol Hanley, Jocelyn Hinz, Amy Howe, Cassie Lambert, Allison Marschean, Violaine Pigeon, Sharlene Rochard, Deirdre Slattery, Lola Small, Barb Sotos, Karen Swyszcz, Johanne Walker, Jena Weiss, Tarrah Wynn
English | November 19th, 2019 | ISBN: 1988736730 | 248 pages | EPUB | 1.45 MB
Fitness to Freedom is a collection of health, wellness, and fitness stories written for women by women to educate, inspire, and encourage readers to live their best and find their balance. The authors in this book share with other women how we have managed to make health and fitness a lifestyle that fits and works in our lives. It includes everything you wanted to know and more from fitness gurus, athletes, competitors, and fitness instructors, as well as from everyday women who just love fitness and keep active because it's their passion.
This dream team of authors has collaborated to create a rich book full of fitness truths from women warriors who are making health and wellness work in their lives while helping others do the same. What are the keys to their success? What gym life hacks help them day to day, and can move others along their fitness journey? We come together with passion, drive, and persistence to live our best lives and share love, commitment, and learning in the hopes of informing and empowering other women to live their best life in and outside of the gym. Our stories of life lessons and personal transformation connect through recurring themes of self-love, self-confidence, and being unapologetically you. The authors in Fitness to Freedom all have unique and powerful stories, lessons, and knowledge to give to other women to inspire their fitness journeys.
Enjoy
My Blog
. No any convert or low quality!