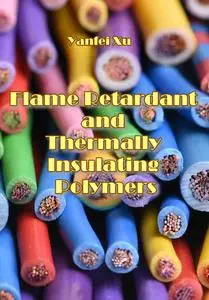 "Flame Retardant and Thermally Insulating Polymers" ed. by Yanfei Xu
ITexLi | 2021 | ISBN: 1839687150 9781839687150 1839687142 9781839687143 1839687169 9781839687167 | 113 pages | PDF | 12 MB
This book discusses recent advances in developing eco-friendly, flame-retardant, and thermally insulative polymer-based materials. It not only focuses on developments of high-performance flame retardants, but also examines flame retardant behaviors in polymers.
Polymers have infiltrated almost every aspect of modern technology, as they have wide applications ranging from building insulation and firefighter uniforms to the Boeing 787 Dreamliner aircraft and electronics packaging. However, common polymers are flammable. Inflammability and thermal insulation properties in polymers are important for specific applications. Eco-friendly polymers with superior flame retardancy, extraordinary thermal insulation, and excellent mechanical strength will provide new opportunities for existing and future applications.
Contents
1. Introductory Chapter: Flame Retardant and Thermally Insulating Polymers
2. Nanoscale Configuration of Clay-Interlayer Chemistry: A Precursor to Enhancing Flame Retardant Properties
3. Development of Halogen Free Sustainable Polybenzoxazine Matrices and Composites for Flame Retardant Applications
4. Plant Uptake, Translocation and Metabolism of PBDEs in Plants
5. Flame Retardant Treatments of Nylon Textiles: A Shift towards Eco-Friendly Approaches
1st true PDF with TOC BookMarkLinks
More :
You find here