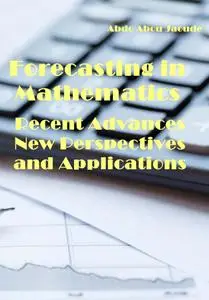 "Forecasting in Mathematics: Recent Advances, New Perspectives and Applications" ed. by Abdo Abou Jaoude
ITexLi | 2021 | ISBN: 1838808272 9781838808273 1838808256 9781838808259 1838808280 9781838808280 | 138 pages | PDF | 8 MB
This book is an illustration of the use of mathematics to solve specific problems in engineering, statistics, and science in general.
Mathematical probability and statistics are an attractive, thriving, and respectable part of mathematics. Some mathematicians and philosophers of science say they are the gateway to mathematics' deepest mysteries. Moreover, mathematical statistics denotes an accumulation of mathematical discussions connected with efforts to most efficiently collect and use numerical data subject to random or deterministic variations. Currently, the concept of probability and mathematical statistics has become one of the fundamental notions of modern science and the philosophy of nature.
Contents
1. The Monte Carlo Techniques and the Complex Probability Paradigm
2. ANFIS TVA Power Plants Availability Modeling Development
3. A Layered Recurrent Neural Network for Imputing Air Pollutants Missing Data and Prediction of NO2, O3, PM10, and PM2.5
4. Wind Power Forecasting
5. Stock Market Trend Prediction Using Hidden Markov Model
6. Electric Load Forecasting an Application of Cluster Models Based on Double Seasonal Pattern Time Series Analysis
7. Seeking Accuracy in Forecasting Demand and Selling Prices: Comparison of Various Methods
1st true PDF with TOC BookMarkLinks
More :
You find here