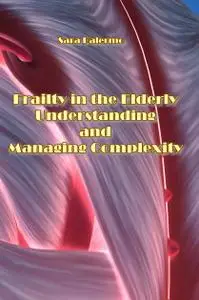 "Frailty in the Elderly: Understanding and Managing Complexity" ed. by Sara Palermo
ITexLi | 2021 | ISBN: 1839682191 9781839682193 1839682183 9781839682186 1839682205 9781839682209 | 131 pages | PDF | 9 MB
In this book, authors propose a conceptual framework within which aging, frailty, and care are analyzed through the lens of complexity medicine. The book presents a multidimensional perspective that takes into account biomedical, (neuro)psychological, and socio-ecological vulnerability.
The progressive growth in the number of older adults worldwide has led to a modification of the current healthcare scenario and a parallel increase in the use of public resources. The theses presented are the result of an inductive approach, based on many years of experience in the field, which has made it possible to identify strategies for frailty recognition and effective responses even in complicated clinical settings. The book is intended to be a tool of concrete and easy consultation, rich in reflections and suggestions.
Contents
1. Frailty, Vulnerability, and Plasticity: Towards a New Medicine of Complexity
2. Current Perspectives on Frailty in the Elderly, Evaluation Tools and Care Pathways
3. Reliability and Validity of Clinicopathological Features Associated with Frailty Syndrome in Elderly Population
4. Performance-Based Screening Tools for Physical Frailty in Community Settings
5. Elderly and Polypharmacy: Physiological and Cognitive Changes
6. Exercise-Based Interventions as a Management of Frailty Syndrome in Older Populations: Design, Strategy, and Planning
7. The Complexity of Frailty: Psychological Mechanism and Therapeutic Interventions in Old People - A Narrative Review
8. Crime against Elderly Women in India
1st true PDF with TOC BookMarkLinks
More :
You find here