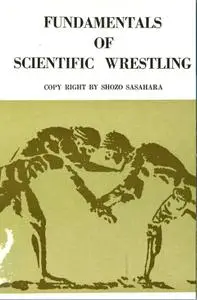 Shozo Sasahara - Fundamentals of Scientific Wrestling
Tokyo | 1978 | ISBN: N/A | English | 210 pages | PDF | 68.2 MB
This is my third book on Scientific Wrestling, which has been revised in a third edition, was writen for the biginners, experts and for his coach as well.
Wrestling is the principle of the maximum-efficient-use of spirit and body, and wrestling is nothing but an application of this all-pervading principle to the methods of attack and defense. In studying wrestling is essential to train the body and to cultivate the spirit through the practice of the methods of attack and defense and thus to master its principle. Thereby perfecting oneself and contributing to the welfare of the world. That is the ultimate aim of the study of wrestling.
I am of the opinion that wrestling must be studied and practiced scientifically and in this book, as indicated by the title, I tried to explain it as plainly and fully as possible by using illustrations.
I would be very happy if this book can be help to learning wrestling throughout the world and also to the promotion of international friendship. Finally I express my heartly thanks to the cooperation of Mr. Fukuda (1965 World champion) demonstrated to this book as my partner.