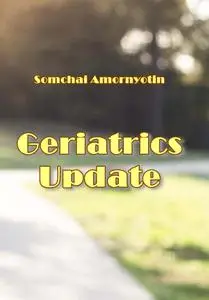 "Geriatrics Update" ed. by Somchai Amornyotin
ITexLi | 2021 | ISBN: 1839623098 9781839623097 183962308X 9781839623080 1839623136 9781839623134 | 171 pages | PDF | 5 MB
This volume is dedicated to topic of great interest in medicine and among the general public. Population aging is an inevitable and irreversible demographic reality that is associated with welcome improvements in health care.
The increase in life expectancy has led the very old to become the fastest-growing segment. The geriatric population experiences significant alterations of numerous organ systems as a result of the aging process. Normally, functional reserve and organ functions are declined in geriatric patients. The care of geriatric patients can be complex and will be a growing task. A balance between physiological and psychological alterations is required in these patients. Geriatric patients also have several co-morbidities including hypertension, cardiac disease, diabetes, cerebrovascular disease, and renal dysfunction.
Contents
1. The Centenarians: An Emerging Population
2. A Comprehensive Overview of Mobility and Aging in the Year 2020 (and beyond)
3. Metabolic Syndrome as the First Stage of Eldership; the Beginning of Real Aging
4. Anesthetic Consideration for Geriatric Patients
5. Pain Management in Older Persons
6. Importance of Geriatric Health Care in India during Covid 19 Pandemic
7. Geriatric Anemia
8. Assessing Anticholinergic Effects in Older Adults
9. Not All Rehabilitation is Physical Therapy
10. Inappropriate Medication and Perception of Quality of Life in Hospitalized Elderly Patients
11. Motivation and Social Support Received in Elderly Care: The Case of Geriatric Palliative Caregivers
12. The Influence of Candida spp. in Intestinal Microbiota; Diet Therapy, the Emerging Conditions Related to Candida in Athletes and Elderly People
1st true PDF with TOC BookMarkLinks
More :
You find here