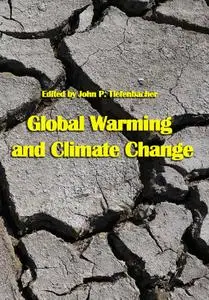 "Global Warming and Climate Change" ed. by John P. Tiefenbacher
ITExLi | 2020 | ISBN: 1838809953 9781838809959 1838809945 9781838809942 1838809961 9781838809966 | 101 pages | PDF | 18 MB
This volume includes scientific and social scientific studies that consider problems stemming from the phenomena of a warming Earth atmosphere, including natural responses to thermal flux, implications for transformations of energy pathways, human actions to adjust, adapt, and mitigate the effects of changing climates, and engineering and design efforts to stop the warming of and reverse the impacts to our environments.
This small volume can only touch on several aspects of our challenges and can only offer a small glimpse at the activities of scientists and social scientists around the world, but the array of chapters herein offers unique insight into the scholarship.
Contents
1.Introductory Chapter: Climates, Change, and Climate Change
2.The Developing World's Contribution to Global Warming and the Resulting Consequences of Climate Change in These Regions: A Nigerian Case Study
3.Deciphering the Climate Change Conundrum in Zimbabwe: An Exposition
4.Mathematical Model for CO2 Emissions Reduction to Slow and Reverse Global Warming
5.Reducing Green House Effect Caused by Soot via Oxidation Using Modified LaFe1-xCuxO3 Catalysts
6.Ca-Cu Chemical Looping Process for Hydrogen and/or Power Production
1st true PDF with TOC BookMarkLinks