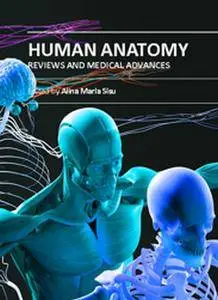 "Human Anatomy: Reviews and Medical Advances" ed. by Alina Maria Sisu
ITexLi | 2017 | ISBN: 9535136127 9535136119 9789535136118 9789535136125 | 146 pages | PDF | 17 MB
This volume is dedicated to anatomy - a fundamental science that studies the structure of the human body from ancient times. Over time, the discipline constantly expands with recent progress that has been produced in researching the human body.
New methods of researching were incorporated in the anatomy development: plastic materials injections, plastination, computed techniques of sectional bodies, and embryology.
Anatomic sections like macroscopic, mesoscopic, microscopic, and public anatomies; radiologic anatomy; computed anatomy; radiologic anatomies; and clinical anatomy contribute to realize a very complex discipline that represents the base of learning medicine.
Contents
1 Human Anatomy: A Review of the Science, Ethics and Culture of a Discipline in Transition
2 Innovative Technologies for Medical Education
3 Anatomical Correlation of the Arterial Blood Supply to the Spinal Cord in Human and Experimental Animals: A Review
4 Human Brain Anatomy: Prospective, Microgravity, Hemispheric Brain Specialisation and Death of a Person
5 Anatomy of Extramuscular Soleus Veins: Clinical Impact
6 Cardiac Anatomy for the Electrophysiologist with Emphasis on the Left Atrium and Pulmonary Veins
7 Anatomical, Biological, and Surgical Features of Basal Ganglia
8 Mesencephalon; Midbrain
1st true PDF with TOC BookMarkLinks