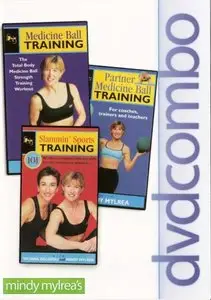 Mindy Mylrea - DVD Combo
DVDRip | 2006 | AVI | XviD | 640х480 | 25 fps, ~1588 Kbps | MP3, 128 kbps
Language: English | Run Time: 165 minutes | 2 GB
This DVD combo is a must have for instructors, personal trainers, and anyone wanting great med ball and sports training ideas. This dvd is packed with over 3 hours of sports skills, drills and routines for all sports applications as well as a complete medicine ball workout. Slammin Sports covers over 100 skills and drills for sports while partner med ball and med ball training offers tons of fun with balls. Mindy Mylrea is the 2004 Can Fit Pro International Presenter of the Year, the 1999 International IDEA Fitness Instructor of the Year, a National and World Aerobic Champion, a PowerBar sponsored athlete, and a five star presenter for IDEA.
Medicine Ball Training - Total Body Strength
The Total Body Strength Medicine Ball Workout is the ultimate in fitness fun for your muscles. Develop functional strength, tone, tighten, and target every major muscle in your body. Build muscle, increase your metabolism, and see results. Medicine ball training has been around for ages. Mindy teaches you how to perfect this training by incorporating drills for upper and lower body - building strength, challenging balance, and developing core function and stabilization. Proper warmup, total workout and complete cool-down are included.
Partner Medicine Ball - Mindy Mylrea, John Mello
The Partner Medicine Ball Training video has drills and skills for successful partner strength, speed, and power workouts using the medicine ball. This video covers core moves, strength variations, balance, and dynamic plyometric exercises. Specific partner work is covered along with drills trainers can use with their athletes and/or clients. A must have for Group X instructors, coaches, teachers, and personal trainers.
Slammin' Sports Training - Mindy Mylrea, Tatiana Kolovou
The Slammin' Sports Training video covers sports training skills and drills for solo, partner, and team workouts. Terrific ideas for both outdoor and indoor training. Drills cover speed & agility, power & strength, and balance & coordination. A must have for personal trainers, Group X instructors, coaches, and teachers.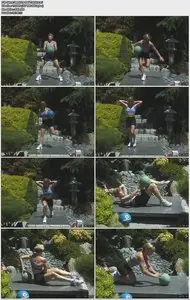 <span style="color:#000000">Filesonic</span>
<span style="color:#ffffff">Wupload</span>
>>> NO PASSWORD <<<
!!! No Mirror(s) Please !!!

!!! My AH blog !!!