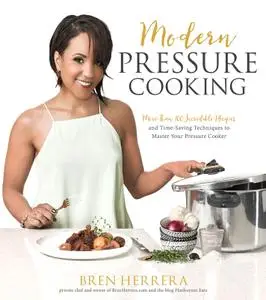 Modern Pressure Cooking: More Than 100 Incredible Recipes and Time-Saving Techniques to Master Your Pressure Cooker by Bren Herrera
English | December 13th, 2016 | ISBN: 1624143032 | 224 pages | EPUB (True/Retail Copy) | 69.90 MB
Be Inspired in the Kitchen with Bren Herrera's Classic and Fusion Recipes
For Stovetop and Electric Pressure Cookers
Pressure cooking is officially in, and who better to unveil the magic of the modern pressure cooker than chef and media personality Bren Herrera? Bren embodies the energy and delicious global food culture of today through her current culinary work with some of the biggest chefs in the world and her Cuban family roots. She's cooked with Emeril Lagasse and Chef of the Century Joël Robuchon, and she appears regularly on the Today show. Through years of international travel and kitchen experimentation, Bren has mastered the fine art of this brilliant appliance; she now presents more than 100 of her most prized recipes, techniques and tips for both stovetop and electric pressure cookers to help you do the same at home.
The pressure cooker's remarkable time and energy efficiency makes it easy to whip up quick weeknight dinners or create complex, restaurant-worthy dishes for entertaining. A few of the mouthwatering meals that you'll enjoy are Tarragon-Mustard Braised Short Ribs, Decadent 4-Cheese Truffle Mac and Cheese, Pumpkin Coconut Curry Soup, Creamy Potato Salad, Spinach and Almond Risotto, Braised Peppered Red Wine Oxtail and Toasted Pistachio and Cardamom Flan. This amazing collection of recipes is sure to make your pressure cooker your new favorite cooking tool.
Enjoy
My Blog
. No any convert or low quality!