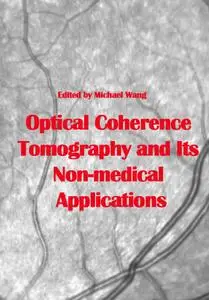 "Optical Coherence Tomography and Its Non-medical Applications" ed. by Michael Wang
ITExLi | 2020 | ISBN: 178984262X 9781789842623 1789842611 9781789842616 1838808019 9781838808013 | 199 pages | PDF | 40 MB
In this book, authors present some recent advancements in optical coherence tomography (OCT) technology and non-medical applications.
Optical coherence tomography (OCT) is a promising non-invasive non-contact 3D imaging technique that can be used to evaluate and inspect material surfaces, multilayer polymer films, fiber coils, and coatings. OCT can be used for the examination of cultural heritage objects and 3D imaging of microstructures. With subsurface 3D fingerprint imaging capability, OCT could be a valuable tool for enhancing security in biometric applications. OCT can also be used for the evaluation of fastener flushness for improving aerodynamic performance of high-speed aircraft. More and more OCT non-medical applications are emerging.
Contents
1.Dynamic Range Enhancement in Swept-Source Optical Coherence Tomography
2.Multi-Frame Superresolution Optical Coherence Tomography for High Lateral Resolution 3D Imaging
3.OCT in Applications That Involve the Measurement of Large Dimensions
4.Low Cost Open-Source OCT Using Undergraduate Lab Components
5.Optical Coherence Tomography for Polymer Film Evaluation
6.Fouling Monitoring in Membrane Filtration Systems
7.Nondestructive Characterization of Drying Processes of Colloidal Droplets and Latex Coats Using Optical Coherence Tomography
8.OCT for Examination of Cultural Heritage Objects
9.Quantitative Mapping of Strains and Young Modulus Based on Phase-Sensitive OCT
10.OCT with a Visible Broadband Light Source Applied to High-Resolution Nondestructive Inspection for Semiconductor Optical Devices
11.Optical Coherence Tomography for Non-Contact Evaluation of Fastener Flushness
1st true PDF with TOC BookMarkLinks