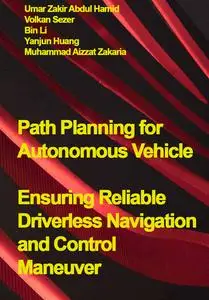 "Path Planning for Autonomous Vehicle: Ensuring Reliable Driverless Navigation and Control Maneuver" ed. by Umar Hamid, Volkan Sezer, Bin Li, Yanjun Huang, Muhammad Aizzat Zakaria
ITExLi | 2019 | ISBN: 1789239923 9781789239928 1789239915 9781789239911 1839622857 9781839622854 | 128 pages | PDF | 24 MB
This book explores path planning (PP) in the context of road vehicles, robots, off-road scenarios, multi-robot motion, and unmanned aerial vehicles (UAVs ).
Path Planning (PP) is one of the prerequisites in ensuring safe navigation and manoeuvrability control for driverless vehicles. Due to the dynamic nature of the real world, PP needs to address changing environments and how autonomous vehicles respond to them.
Contents
1.Introductory Chapter: Roles of Path Planning in Providing Reliable Navigation and Control for Autonomous Vehicles and Robots
2.Military Factors Influencing Path Planning
3.Path Planning for Autonomous Vehicle in Off-Road Scenario
4.Vision-Based Path Finding Strategy of Unmanned Aerial Vehicles for Electrical Infrastructure Purpose
5.Extending the Limits of the Random Exploration Graph for Efficient Autonomous Exploration in Unknown Environments
6.Model of the Optimal Maneuver Route
7.Path Planning Optimization with Flexible Remote Sensing Application
8.Distributed Optimization of Multi-Robot Motion with Time-Energy Criterion
1st true PDF with TOC BookMarkLinks