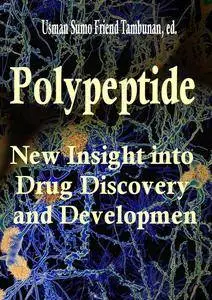 "Polypeptide: New Insight into Drug Discovery and Development" ed. by Usman Sumo Friend Tambunan
ITExLi | 2018 | ISBN: 1789234654 9781789234657 1789234646 9781789234640 | 79 pages | PDF | 6 MB
This book aims to provide insight and knowledge regarding the current research that has been conducted in peptides field, and book may encourage the reader to emphasize the importance of peptides in human life and to inspire others to identify the potency of peptides for other applications that still need further exploration. In this book, some of the compelling applications of peptides in biological and health sciences will be introduced.
Peptides are the biomolecules that consist of several amino acid chains linked through peptide bonds. This class of biomolecules is commonly found in living matter, and some of which play an imperative role in their regulation and functional activities. Peptides have been extensively applied in every aspect of human life, including cosmetics, electronics, the food industries, and pharmaceutical fields. Ultimately, peptide commercialization has become a major trend, which has been growing significantly in recent years. Viewed from the scientific perspective described above, the author believes that the development of peptides in every aspect of human life should be accelerated.
This book comprises an introductory chapter, along with four chapters presented by several prominent scientists who work in the field of peptide research
Contents
1 Introductory Chapter: Application of Peptides in Biomedical Sciences
2 Peptide Presentation Is the Key to Immunotherapeutical Success
3 The Role of Erythropoietin-Derived Peptides in Tissue Protection
4 A Transmembrane Single-Polypeptide-Chain (sc) Linker to Connect the Two G-Protein-Coupled Receptors in Tandem and the Design for an In Vivo Analysis of Their Allosteric Receptor-Receptor Interactions
5 Calcitonin-Related Polypeptide Alpha Gene Polymorphisms and Related Diseases
1st true PDF with TOC BookMarkLinks