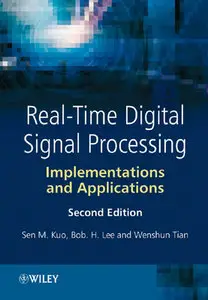 "Real-Time Digital Signal Processing: Implementations and Applications" Sen M. Kuo, Bob H. Lee, Wenshun Tian
Second Edition
John Wiley & Sons | 2006 | ISBN: 0470035528 9780470035528 | 666 pages | PDF | 15 MB
This book remains the only book on DSP to provide an overview of DSP theory and programming with hands-on experiments using MATLAB, C and the newest fixed-point processors from Texas Instruments (TI).
Real-time digital signal processing (DSP) is of increasing importance in today's engineering fields because of the demand for high performance, low-cost digital signal processors in many applications from digital cellular phones and high-speed Internet access, to image processing, and multimedia streaming.
This book is a valuable, leading-edge resource for electrical and computer engineering students taking courses in digital signal processing who need up-to-date information on the technology. It is also a useful reference for practising engineers and researchers involved in the creation of real-time DSP applications.
Key features:
• Focuses on effective software development process from algorithm design and validation, to floating-point evaluation, fixed-point simulation, C55xx intrinsics, and code optimization with efficient assembly language implementation.
• Describes widely used DSP applications such as DTMF generation and detection, echo cancellation, noise reduction, speech coding, channel coding, audio processing, and image processing.
• Introduces Texas Instrument's Code Composer Studio, and C5510 DSK hardware for DSP application development, evaluation, debugging and testing.
• Examines the design and analysis of DSP algorithms using MATLAB Graphic User Interface (GUI) tools.
• Tests and evaluates the DSP applications using MATLAB Link for CCS tools with C5510 DSK hardware.
• Includes an accompanying CD with many MATLAB examples, C and C55xx programs for hands-on DSP experiments.
Contents
Preface
1 Introduction to Real-Time Digital Signal Processing
2 Introduction to TMS320C55x Digital Signal Processor
3 DSP Fundamentals and Implementation Considerations
4 Design and Implementation of FIR Filters
5 Design and Implementation of HR Filters
6 Frequency Analysis and Fast Fourier Transform
7 Adaptive Filtering
8 Digital Signal Generators
9 Dual-Tone Multifrequency Detection
10 Adaptive Echo Cancelation
11 Speech-Coding Techniques
12 Speech Enhancement Techniques
13 Audio Signal Processing
14 Channel Coding Techniques
15 Introduction to Digital Image Processing
Appendix A: Some Useful Formulas and Definitions
Appendix B: Software Organization and List of Experiments
Index
with TOC BookMarkLinks