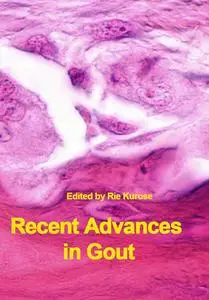 "Recent Advances in Gout" ed. by Rie Kurose
ITExLi | 2020 | ISBN: 1789843227 9781789843224 1789843219 9781789843217 1838801197 9781838801199 | 68 pages | PDF | 9 MB
The purpose of this book is to provide an update on the epidemiology, pathophysiology, clinical symptoms, treatment, management, and ongoing research in gout. This book is a valuable resource for physical clinicians who have the opportunity to treat gout.
Accepted submissions are of high scientific value based on previous research and include novel and innovative research. The scientific content of this book will be beneficial to patients, students, researchers, educators, and healthcare providers who are interested in the recent progress in gout research and therapy, not only physical clinicians.
Contents
1.Introductory Chapter: Gout
2.The Gout
3.Pharmacology of the Therapeutic Approaches of Gout
4.Personalized Medicine of Urate-Lowering Therapy for Gout
5.Prophylaxis of Acute Arthritis at Initiation of Urate-Lowering Therapy in Gout Patients
1st true PDF with TOC BookMarkLinks